SKTracker
1.0.8
Get more control of your system!
Last update
20 Mar. 2006
Licence
Free to try |

$9.00
OS Support
Mobile
Downloads
Total: 384 | Last week: 1
Ranking
#18 in Utilities
Publisher
Sk Software
SKTracker Publisher's Description
SKTracker this is program allowing You to trace changes on Your PocketPC.

As example, having done two records of the condition of the system,
before and after the installation of some software,
You will be able to learn about changes fom system.
You will be also able to use information for full removing software from system.
SKTracker features:
writing the current condition of the file system
writing the current condition of the registry
writing the current condition of the databases
comparison and suitable viewing result
start of Your file manager and registry editor from viewing window
a removing new or changed files and registry keys
keeping to information in compressed type
export information to text file
support several languages of the interface
QVGA/VGA support
PPC2002/WM2003/WM2003 SE compatible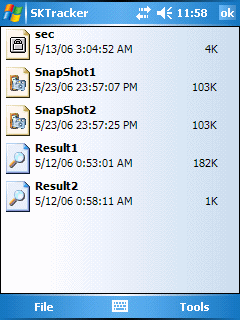 Look for Similar Items by Category
Feedback